I asked Sir to redo the E our friend marked me with to show Sir's ownership. He happily allowed it. Making the mark fresh so it wouldn't fade. I have yet to talk to him to see if this is going to be made permanent or if he wants something else to mark me with forever. But at least I know that this will last for a long time.
My first full body suspension.
Description:
はじめまして!!
Welcome to my house!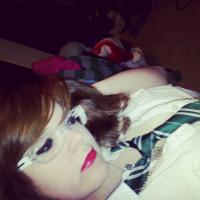 [
*
]I'm only going to say this once. Don't send me a message that says 'hi'. Say something to start a conversation with me. I'm not meaning to sound rude, but Hi doesn't leave much to go off of. SO I will simply ignore them.[
*
]
---
My name is Rika. However, if you know me from WoW then you may know me as Kurona (Crona). You can call me by either, but I do prefer Rika. If you know me from tumblr then it would be Aurica-Kai. But, that's just my name on there. It's hard to come up with things that go with Rika
---
I like werewolves. I'm just throwing that out there. I'm pretty obsessed with them so if that is all I seem to talk about at points, it's probably because I'm in werewolf mode and just watched or read a lot of werewolf things. Or someone was talking werewolves with me.
---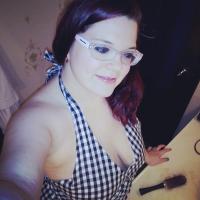 Useful places for me
www.Rikatini.tumblr.com
www.Rikatini.tumblr.com/ask (It's my ask box if you want to say something to me)
www.rainbowgatomon.tumblr.com (my digimon blog for the show and DMO)
www.raving-unicorn.tumblr.com (my rave blog for rave fashion)
www.auricakai.tumblr.com/fanfiction (Stories. Some drabbles may be here that I don't put on fanfiction. But really it's going to be basically the same. And most of them will even link to fanfiction. So it just depends on how you want to get to my stories)
www.fanfiction.net/~auricakai or http://www.fanfiction.net/u/827110/ (here you can find all of my stories.)
www.instagram.com/Rika_chan_
https://fetlife.com/users/3515776
---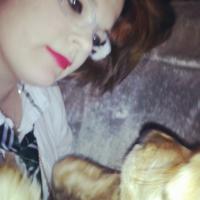 Likes
Current Obsessions
* Anime
* Klaine
* Manga
* Darren Criss
* Books
* Glee
*Music- all kinds
* Chris Colfer
* Animals
* Anything Slytherin
*
Japanese
* Starkid
* Tokio Hotel
* Chrona
* Yuya Matsushita
*..... Did I mention Klaine?
* Malec fanfiction
*
Lady
* World of Warcraft
*
AVPM
*
AVPS
* Harry Potter
* Kuroshitsuji
* The Kuroshitsuji muscials
* The Mortal Instruments
*
Soul Eater
---
I'm working on mapping out a story. It's coming along nicely. But I need Celtic/Natural
/Druid sounding names for a lot of the characters. I have a lot of it planned and with any luck I'll be able to get it published one day. I'm excited about it. But I've got a lot of work to do before it becomes something that people can read.

Also, I write a lot of fanfiction. I don't care if you don't like it or if you think it's funny. It's something that I like to do. And if you think that it's silly then just stay away from it. I'm tried of people purposely going out of their ways to say something mean and nasty to me about it. Go find other things to do with your time rather than sending hate. I don't care that you hate it. I'm going to keep writing no matter what you say. So do me and you both a favor and go away.

---

Rika----New wiki where I'll put pictures. It's not passworded so anyone can view it. However if you're wanting my wiki that is more revealing then you'll need to message me for the password. But I have them here: 100% Rika, Rika's Werewolf, and Rika's Kink. But, if we don't talk or if we're not friends that I probably won't give it to you. Sorry.


---